Medical Skin Care Line of Brian D. Cohen, M.D.
These products are a scientifically developed medical grade skin care line. A regimen specifically targeted to your skin needs will be recommended during your visit to Dr. Cohen's Medical Spa.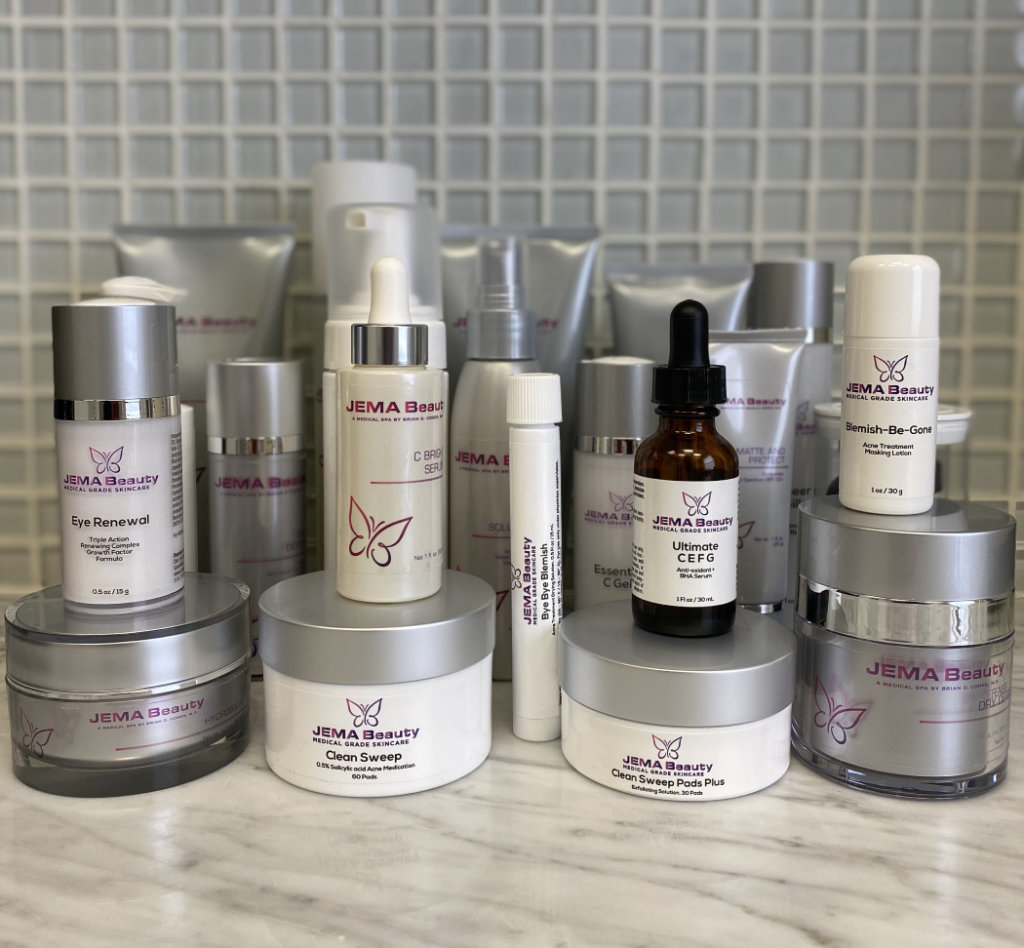 Following a daily skincare regimen customized for your individual skin type can be highly effective in maintaining a healthy, youthful appearance and reducing the risk of certain conditions, as well as the signs of aging. We offer a wide range of our very own medical skincare line to help you achieve clear, beautiful skin on a daily basis. These products are fragrance-free, hypoallergenic, paraben-free and organic. Dr. Brian D. Cohen is experienced in providing customized skincare regimens that can truly help each patient achieve and maintain a smooth and youthful-looking appearance.
Daily skincare should involve a multi-step process to thoroughly cleanse the skin and keep it looking its best. This may include many different products, including cleansers, exfoliating creams, toners, moisturizers, night creams, sunscreens and more, depending on each person's individual skin type and personal goals.
Please call today to schedule your very own personalized skincare analysis to help get you to feel and look your refreshed, youthful self. 516–773–4200
Targeted Skin Cleansers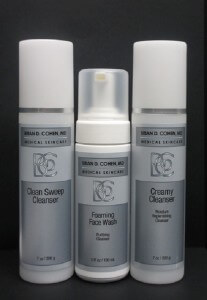 Creamy Cleanser – moisture replenishing gentle exfoliating cleanser for skin renewal, normal to dry skin.
Foaming Face Wash – Purifying gentle exfoliating cleanser for combination/oily skin.
Clean Sweep Cleanser – contains 10% Glycolic acid for enhanced exfoliation, normal to combination/oily skin, Paraben Free
Barrier Support Agents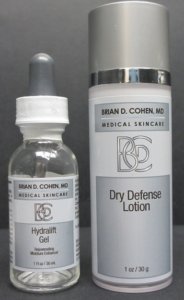 Hydralift Gel – Rejuvenating moisture enhancer, reduces the appearance of fine lines and wrinkles, all skin types, Paraben & Fragrance free.
Dry Defense Lotion – Normal/dry/sensitive/post-procedure skin, Paraben, fragrance &solvent free.
Eye Area Treatment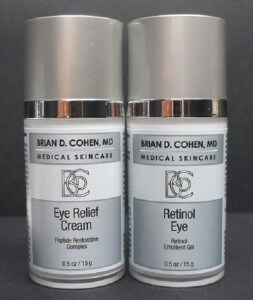 Eye Relief Cream – peptide restorative complex, improves the appearance of fine lines and wrinkles & addresses puffiness & dark circles, Paraben free.
Retinol Eye – retinol emollient gel, the purest form of vitamin A, helps produce collagen to accelerate reducing the fine lines and wrinkles, Paraben free.
Topical Skin Renewal Preparations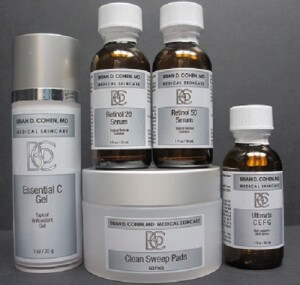 Clean Sweep Pads – daily pads for skin degreasing, mild exfoliation, anti-acne, oily/combination, acne prone skin, Paraben free.
Essential C Gel – Topical anti-oxidant gel, free-radical protection/antioxidant, reduces appearance of fine lines and wrinkles, dry/sensitive/post-treatment, Paraben free.
Retinol 20, 50 Serum – Evens skin color, reduces, appearance of fine lines and wrinkles, anti-acne, normal/combination,oily/acne-prone skin, Paraben free.
Ultimate C E F G – Anti-oxident + BHA Serum – Brightens & smooths texture, free-radical protection, antioxidants. apply at night, normal/combination skin.
Photoprotect Agents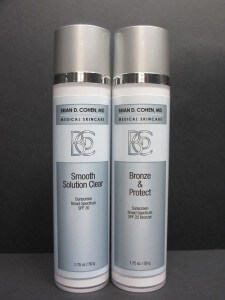 Bronze & Protect SPF 25 Bronzer – Sunscreen broad spectrum UVA/UVB protection, no chemicals, fragrance or parabens, all skin types.
Smooth Solution Clear – Sunscreen broad spectrum UVA/UVB protection, no chemicals, fragrance or parabens, all skin types.
Why sunscreen? Wearing sunscreen daily will help prevent your skin from burning from harsh UVB rays and reduce the effects of UVA rays on the deeper layers of your skin–it may help reduce the signs of aging later on down the road as well as lower your exposure risk to skin cancer.
What are UVA and UVB?
▪ UVA rays are the kind that have the greatest effect on you… that you don't necessarily see right away. This includes aging and wrinkles as well as increase the risks of skin cancer. UVA are the AGING (and cancer-causing) rays.
▪ UVB rays are the kind that you'll notice right off the bat, because UVB rays are generally responsible for sunburns. UVB are the BURNING (sunburn-causing) rays.
Is higher SPF better?
Not, not necessarily. First, remember that "SPF" is only a rating on effectiveness of UVB rays, not UVA. SPF 15 blocks roughly 93% of all UVB and SPF 50 blocks 98%. SPF of a minimum of 15 is recommended. If you are out and about, many organizations recommend reapplying sunscreen every two hours (especially if you're spending the day in the sun). It is also more important to look for a broad spectrum sunscreen than one merely with a high SPF rating.
The way SPF works is if it takes you 10 minutes to start burning normally, wearing SPF 15 would mean it would take 15 times as long to burn–150 minutes, 2 1/2 hours and SPF 25 over 4 hours.
What ingredients should I look for?
Any sunscreen or sunblock should list what ingredient(s) it uses to accomplish sun protection. The rule of thumb is to look for a sunscreen with "broad-spectrum" protection. This means that it uses ingredients that cover the majority of the UV spectrum (so both UVA and UVB protection).
▪ UVB (290-320nm): Titanium Dioxide, Zinc Oxide, Aminobenzoic Acid(PABA), Cinoxate, Dioxybenzone, Ensulizole, Homosalate, Octocrylene, Octinoxate, Octisalate (Octyl Salicylate), Oxybenzone, Padimate O, Sulisobenzone, Trolamine Salicylate
▪ UVA (320-340nm): Titanium Dioxide, Zinc Oxide, Ecamsule (Mexoryl), Helioplex, Meradimate, Oxybenzone, Sulisobenzone
▪ UVA (340-400nm): Zinc Oxide, Avobenzone
Physical blockers like Titanium Dioxide and Zinc Oxide may give some deeper skin tones a white cast. Dr. Cohen's medical formula ads some bronzing ingredient to offset this white cast with a light bronzing glow. Be careful with chemical sunscreens as you may be allergic or sensitive to the chemicals used and may need to use the safe physical blockers. Physical blockers protect skin by deflecting or blocking harsh UV rays, while chemical blockers/sunscreens usually absorb them. (Most sunscreen ingredients other than titanium dioxide and zinc oxide are chemical sunscreens.) Physical blockers tend to be more stable, while chemical sunscreens may degrade and are often paired with other sunscreen ingredients to increase stability.
Dr. Brian D. Cohen's Bronze & Protect uses only Titanium Dioxide and Zinc Oxide, the physical blockers. Zinc Oxide is the broadest spectrum reflector approved by the FDA as a sunscreen. The bronzer gives your skin a healthy glow.
---
Please call today to schedule your very own personalized skin care analysis to help get you to feel and look your refreshed, youthful self. 516–773–4200
---