Non-Surgical Cool Sculpting
CoolSculpting™
Nassau County and Manhattan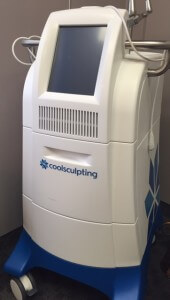 CoolSculpting is an innovative, nonsurgical treatment for targeted fat removal. The name is appropriate in several contexts since the process uses controlled cooling as a technique to eliminate stubborn fat, since it is noninvasive, and since, because of its proven efficiency, it is a "cool" new tool for fat reduction.

CoolSculpting is the only nonsurgical fat reduction method that has been approved by the FDA. It has been shown to remove the fatty deposits in troublesome areas that resist all efforts to do so through diet and exercise. Surprisingly, CoolSculpting targets the fat cells underneath the skin while leaving the skin itself unaffected. It is a much less invasive alternative to bariatric surgery or liposuction and may rid the patient of an unsightly double chin or bulging upper thigh. Cohen Plastic Surgery is proud to offer CoolSculpting at both their Long Island and Manhattan offices.
The Scientific Discovery Underlying CoolSculpting
As with so many innovative medical procedures, CoolSculpting was developed by close scrutiny of natural events. In this case, scientists at Harvard University were excited to observe that some children got dimples from eating popsicles, from which came the idea that cold can selectively eliminate fat cells without damaging surrounding tissue. This insight gave birth to Cryolipolysis ®, the underlying concept of CoolSculpting.
Advantages of CoolSculpting
There are many methods of lessening accumulated fat on the body, but CoolSculpting has a variety of advantages over other means of fat reduction, including that it is:
Nonsurgical, so no downtime is required
FDA-approved and safe
Effective, producing noticeable results
Capable of permanently eliminating fat cells
Works equally well on men and women
Targets stubborn areas of fat that dieting and exercise don't affect
Difference between Fat Reduction and Weight Loss
When an individual loses weight, the size of the fat cells decreases, but the number of fat cells in the body remains the same. This means that when the same individual gains weight, those same fat cells enlarge again.
During the process, however, the targeted fat cells are permanently eliminated so they certainly can never re-enlarge. This means that, regardless of whether the individual loses weight, he or she is slimmer, looks better, and fits into clothes more easily. Because the CoolSculpting process is so focused, fat cell distribution in untreated areas of the body remains unchanged.
Good Candidates for CoolSculpting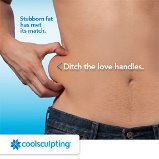 Most people with problem areas of fat may be good candidates for CoolSculpting, but the procedure is not appropriate for everyone. Individuals who are obese, or suffer from cryoglobulinemia, paroxysmal cold hemoglobinuria or cold agglutinin disease should not undergo CoolSculpting. By consulting with a CoolSculpting physician, it will be determined if the procedure is right for you.
The CoolSculpting Procedure
Depending on whether you have one or more areas on your body that you would like to reshape, your healthcare provider will tailor an individualized plan. Typically, more than one session is necessary.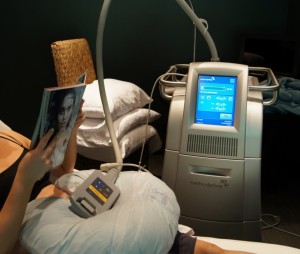 During the procedure, the cooling device is positioned on your body and controlled cooling is applied. For the first few minutes, you will feel pressure and intense cold, but this soon dissipates. Some patients experience discomfort — sensations of tugging, pinching, or numbness. Afterwards, you may experience temporary numbness, redness, swelling, bruising or pain. Other side effects are rare. For most patients, the CoolSculpting procedure goes very smoothly. Many people read, look at their laptops, watch videos, or even nap while their body contours are improved.
Because you won't be undergoing any type of surgery, you are usually able to return to your normal routine immediately after treatment. In the weeks and months following the procedure, your body will naturally eliminate the treated fat cells. Many patients see changes as soon as 3 weeks after treatment. The most dramatic alterations are usually visible after 2 months when you will observe a great improvement in your appearance, both in the mirror and in the eyes of those you encounter. Your body will continue flushing out fat cells for up to 4 to 6 months after treatment.
Contact Cohen Plastic Surgery Today to Discuss Your Options!
You don't have to look far to find articles praising the CoolSculpting procedure. This method of fat reduction has been featured in a great many magazines, including Allure, Time, Elle, GQ, Good Housekeeping, Vogue, Self, Marie Claire, and Oprah. Why not come in to consult with Dr. Cohen, either in his Great Neck office and medical spa, or in his Manhattan office, to find out if CoolSculpting, or one of our other cosmetic procedures, is right for you? Contact Cohen Plastic Surgery today to schedule your first appointment.